This month marks a significant milestone in U.S. history. A record number of women are serving in Congress—nearly a quarter of the voting membership—and the speaker of the House of Representatives is a woman.
At the local level, in September, the ICMA Executive Board appointed its fourth woman president, and as ICMA President Karen Pinkos, city manager, El Cerrito, California, pointed out in her inaugural speech, she is the first woman to be followed by another woman as Jane Brautigam, city manager of Boulder, Colorado, was appointed president-elect.
In December, after many years serving as assistant city manager, Pinkos stepped into the city manager role in El Cerrito. This year, the ICMA Executive Board has taken on the issue of board diversity with sessions planned at all of the 2019 ICMA Regional Conferences, along with plans to engage all members in the discussion driven by the strategic plan initiative "to expand and diversify the ICMA membership." 
In spite of the good news, a recent ICMA membership survey found that women were less likely to aspire to the chief administrative officer (CAO) role than men. In 2017, the numbers were 72% of men and 52% of women citing CAO as their ultimate career goal, which was consistent with the 2016 survey. Heidi Voorhees and Joellen Earl, co-owners of ICMA Strategic Partner GovHRUSA, pointed to the confidence gap that affects women disproportionately to men as potentially one of the reasons behind the numbers. 
An upcoming report, which will be released by ICMA this spring, identifies some additional potential reasons behind the numbers, including the influence of work-life balance and family roles on professional pursuits, the need to relocate to access promotions, and the lack of women CAO mentors. The research also suggests some ways of overcoming these career blocks, i.e., new technology that can improve flexibility and the importance of an existing CAO willing to advocate for women.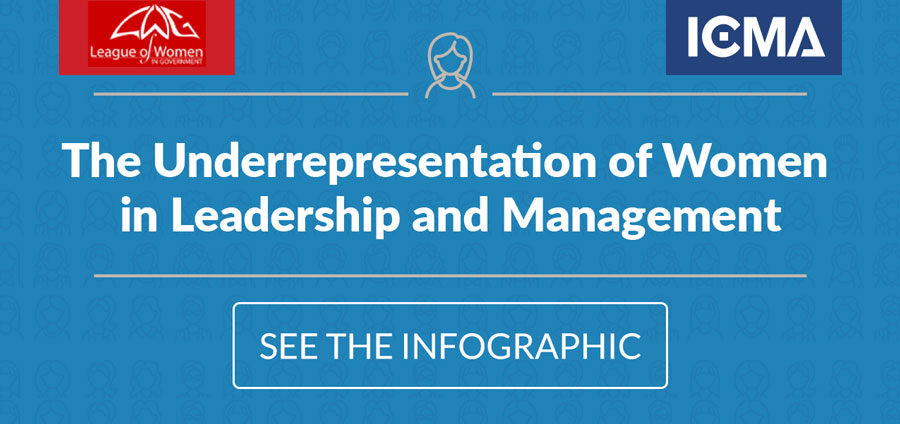 In March 2018,  Public Management (PM) magazine published It Isn't Easy, But We Do It Anyway, an article celebrating five women in the profession who have not only earned the respect and recognition of their peers by achieving the role of CAO but also have been selected as their community's first female manager. These groundbreakers shared what motivated their achievements, impacts of mentorship, and shared stories of perseverance despite any barriers they might have experienced. ICMA continued with the Local Gov Life podcast series, United Front, and further told the story of two women highlighted in PM, and also introduced other female CAOs who are earning the respect of their peers.
Stay Tuned
In March 2019, ICMA is hosting a webinar in honor of Women's History Month. Interest, Confidence, Risk, Reward: Getting More Women Into Local Government Management Positions co-sponsored by the League of Women in Government, The Michigan Municipal League, and the University of North Carolina, Chapel Hill will report on new research, new professional development models, and more barrier-breaking ideas for #SheLeadsGov! Mark your calendar for Tuesday March 26 at 1 p.m. eastern. More details will be available shortly.